Scope
The European CubeSat Symposium invites the submission of abstracts for presentations and posters addressing original research regarding CubeSat technology in general, subsystem and system concepts, mission studies and flight experience results for in-orbit demonstration, education and science.
Scientists and engineers from universities, research centres, agencies and companies are encouraged to present their latest findings and discuss new avenues for the nanosatellite field.
History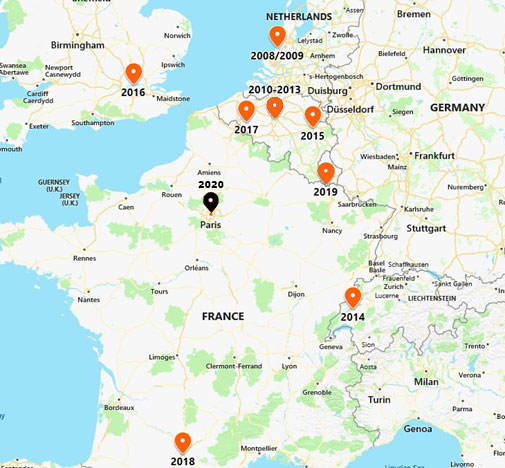 In 2009, von Karman Institute started working on the concept of the first ever network of CubeSats in orbit, leading eventually to the EU funded QB50 Project. During the feasibility study phase, one of the most important analysis was to find out which universities and institutions work on developing CubeSats. While this activity was at that time heavily based on using the knowledge of the leading individuals in the CubeSat community, it was soon realized that there was no regular event to bring the CubeSat community together. ESA had organized two symposia in the years before, which were then not further pursued by the Agency.
The von Karman Institute took then up the organization by holding the 3rd European CubeSat Symposium in Belgium in 2011 together with the first QB50 Workshop. The attention and the level of excitement was so high that it was only natural to continue the series of the symposia in the coming years.
In addition to the regular other conferences such as ESA's SmallSat conference, CalPoly's CubeSat Developers Workshop and other relevant events, the European CubeSat Symposium continued to be the leading international event to bring all CubeSat community together.
With increasing attention from all over the world, the 6th European CubeSat Symposium was organized for the first time in a different country, in Switzerland.
In 2015, the conference returned to Belgium and took place in Liege the home of the first Belgian CubeSat Oufti-1. In the years that followed attractive locations in where chosen in Western Europe and were organized with partners with keen interest in CubeSats or the cubesat related science. The scope of the presentations changed. Now, very credible mission concepts, flight experience were and scientific results complementing and competing with traditional satellite mission were discussed in addition to disruptive ideas. Clearly, the CubeSat concept became more mature since its inception.
This year's edition takes place in Paris, at the Ecole Polytechniquen. 
The symposium enjoys the participation of most important researchers in the field from all over the world and the support of loyal sponsors from the nanosatellite industry such as ISIS, NanoRacks etc, which is herewith gratefully acknowledged.
1st Vega Maiden Flight CubeSat Workshop
22-24 January 2018, ESTEC, The Netherlands
140 participants
2nd European CubeSat Workshop
20-22 January 2009, ESTEC, The Netherlands
190 participants
3rd European CubeSat Workshop
24-29 January 2011, Rome, Italy
4th European CubeSat Symposium
30 January-1 February 2012, Royal Military Academy / von Karman Institute, Brussels, Belgium
230 participants
5th European CubeSat Symposium
3 – 5 June 2013, Royal Military Academy / von Karman Institute, Brussels, Belgium
160 participants
6th European CubeSat Symposium
14 – 16 October 2014, Estavayer-le-Lac, Switzerland
100 participants
7th European CubeSat Symposium
9 – 11 September 2015, Université de Liège / von Karman Institute, Belgium
177 participants
8th European CubeSat Symposium
7 – 9 September 2016, Imperial College / von Karman Institute, London, United Kingdom
101 participants
9th European CubeSat Symposium
29 November – 1 December 2017, Royal Observatory Belgium / von Karman Institute, Kursaal, Ostende, Belgium
385 participants
10th European Cubesat Symposium
5 - 7 December 2018, Isae-Supaero / von Karman Institute, Toulouse, France
300 participants
11th European Cubesat Symposium
11-13 September 2019, University of Luxembourg / von Karman Institute, Esch-sur-Alzette, Luxembourg
100 participants
12th European Cubesat Symposium
26-26 November 2021, Ecole polytechnique/ von Karman Institute, Palaiseau, France
150 participants